With the release of the Sony 20mm f/1.8 G series wide-angle prime lens, Sony has released it's 34th FE lens for its growing lens lineup for its mirrorless camera series. Following in the footsteps of the incredibly popular 24mm f/1.4 GM lens, Sony hopes this wider fast prime lens will fit nicely within its lens lineup for both landscape and astro/night photography enthusiasts. Fortunately, as a Sony Artisan, I was given early access to this lens and was allowed to bring it with me to one of my favorite winter destinations on the planet, the Lofoten Islands of Norway. Located above the Arctic Circle, this amazing location is home to endless seascapes, fjords, mountains, and opportunities to capture the Northern Lights. After spending two weeks in this region with the 20mm f/1.8 G lens, I have come away with ton of images and thoughts, so let's dive right in!
Specs
Focal Length – 20mm
Focal Length via APS-C Cameras – 30mm
Max. Magnification – 0.20x (AF)/0.22x MF
Min Focus Distance – 7.5″ (0.19 m – AF)
Filter Diameter – 67mm
Dimensions – 2.9 x 3.33 (7.3.5 x 84.7 mm)
Weight – 13.2oz (373g)
Supplied Accessories – Front & Rear caps, ALC-SH162 Hood, Soft Case
$899 USD MSRP
Portability & Build Quality
One of the first things I noticed about the Sony 20mm f/1.8 G lens when I picked it up for the first time was just how small and light it truly is. This lens is small! At just 3.3 inches tall and weighing just 13.2 oz, this is one of the most portable wide-angle prime lenses I have ever used. As an owner of the popular Sony 24 f/1.4 GM, I am happy to report there are noticeable differences in both size and weight between the two lenses.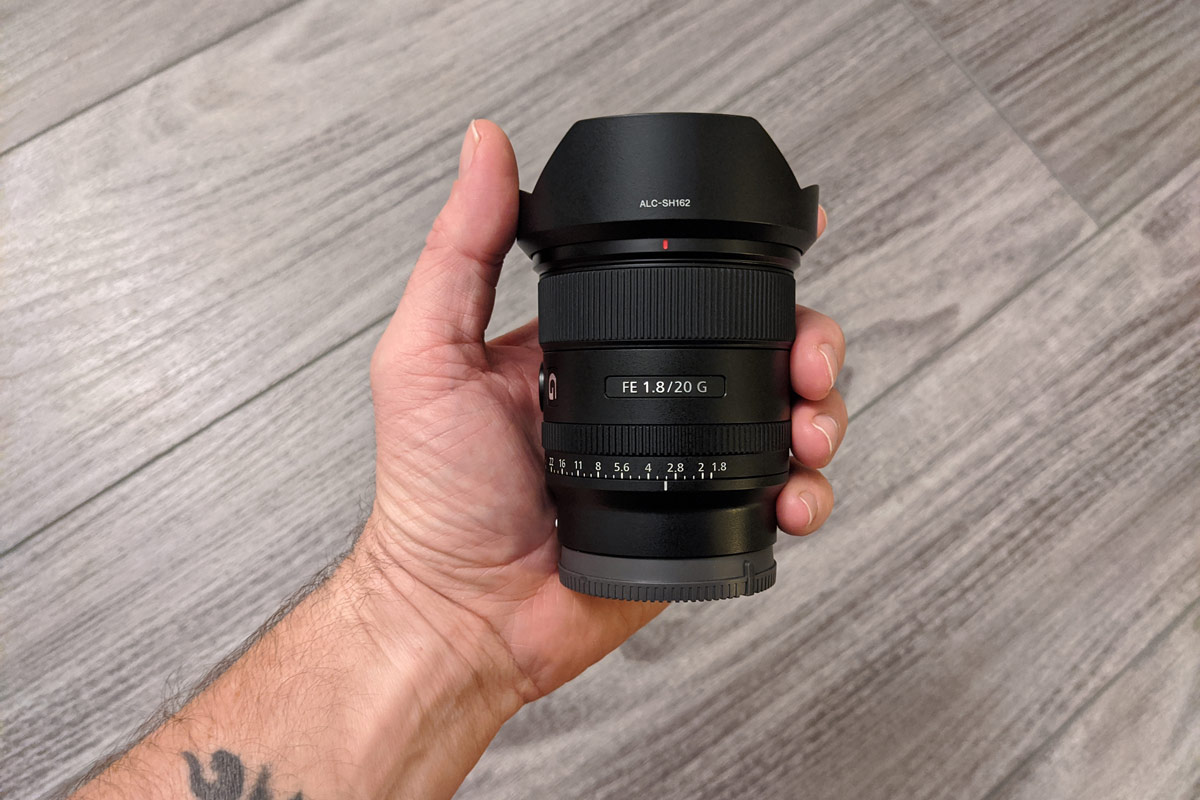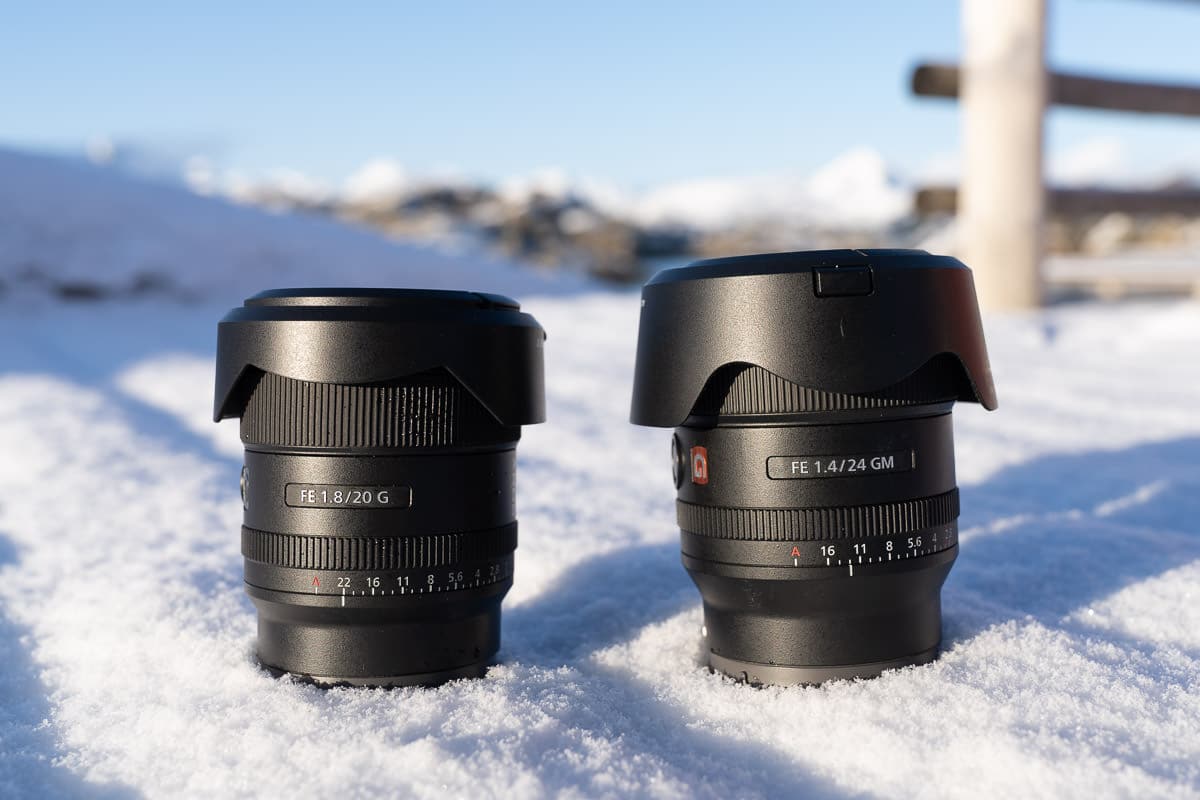 In terms of build quality, this lens doesn't feel any different when compared to the more expensive GM series bodies. It felt solid in my hand, but not nearly as heavy as the 24 GM (2.5 oz difference) or even something like the tiny Zeiss 21mm f/2.8 Loxia lens. Built into the side of the lens is a de-clickable manual aperture ring as well as, MF/AF switch and a customizable focus hold button.
The lens has Sony's Nano AR Coating to help suppress internal reflections/flare as well as an eye-pleasing 9-blade circular aperture mechanism, which should help create nice sun stars in the right situations. The glass itself consists of 12 groups and 14 elements that include AA and ED glass elements that I will talk a bit more about in the Astro/Night photography section.
Performance
As Sony continues to update and expand is lens lineup, it is great to see technology continue to trickle down from the more expensive and advanced lenses that have been developed. Although this lens was built for landscape and astrophotographers that will often find themselves shooting in manual focusing mode, it is good to hear that the same XD linear focus actuators found in the 400 f/2.8 GM have found themselves within this lens. This results in fast, accurate and quiet AF tracking for both still and video capture.
This is honestly a little surprising considering this lens did not receive the G-Master lens title from Sony. Regardless, the AF system with the Sony a7R IV was a pleasure to use with this lens. Additionally, while I don't personally shoot much video, Sony Alpha Collective member Stan Moniz was with me in Norway and he made multiple comments about just how fast and smooth its AF system was while we were shooting a number of video projects with the lens.
Sharpness Tests
When it comes to new lenses, photographers these days are obsessed over image sharpness, and arguably for good reasons. When you have mirrorless cameras that can push out incredible 62mp images such as the Sony a7R IV, it is understandable to want lenses that maximize that kind of resolution. For my entire time in Norway, I shot with two different Sony a7R IVs, alternating between the various different lenses I brought with me at the time. Historically, Sony reserves it's sharpest lenses with the highest resolving power for its higher-end and more expensive GM (G-Master) glass, but I was incredibly impressed with just how sharp this lens turned out to be.
As you can see from the following examples, the 20mm f/1.8 G lens is certainly sharp in the center throughout it's f/stop range and maintains sold corner to corner sharpness as well, especially for a G series lens. For the sharpest corner to corner results, I found f/4 – f/11 to be the sweet spot for this lens during the normal hours of the day.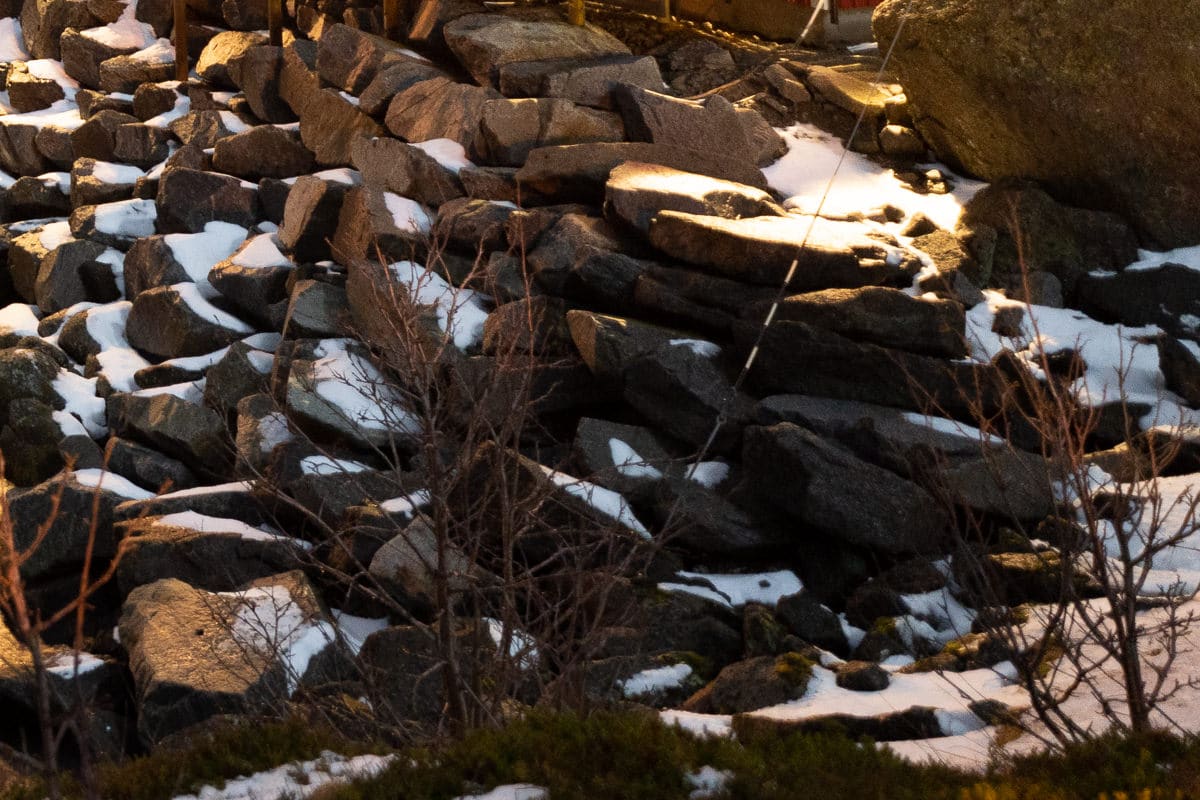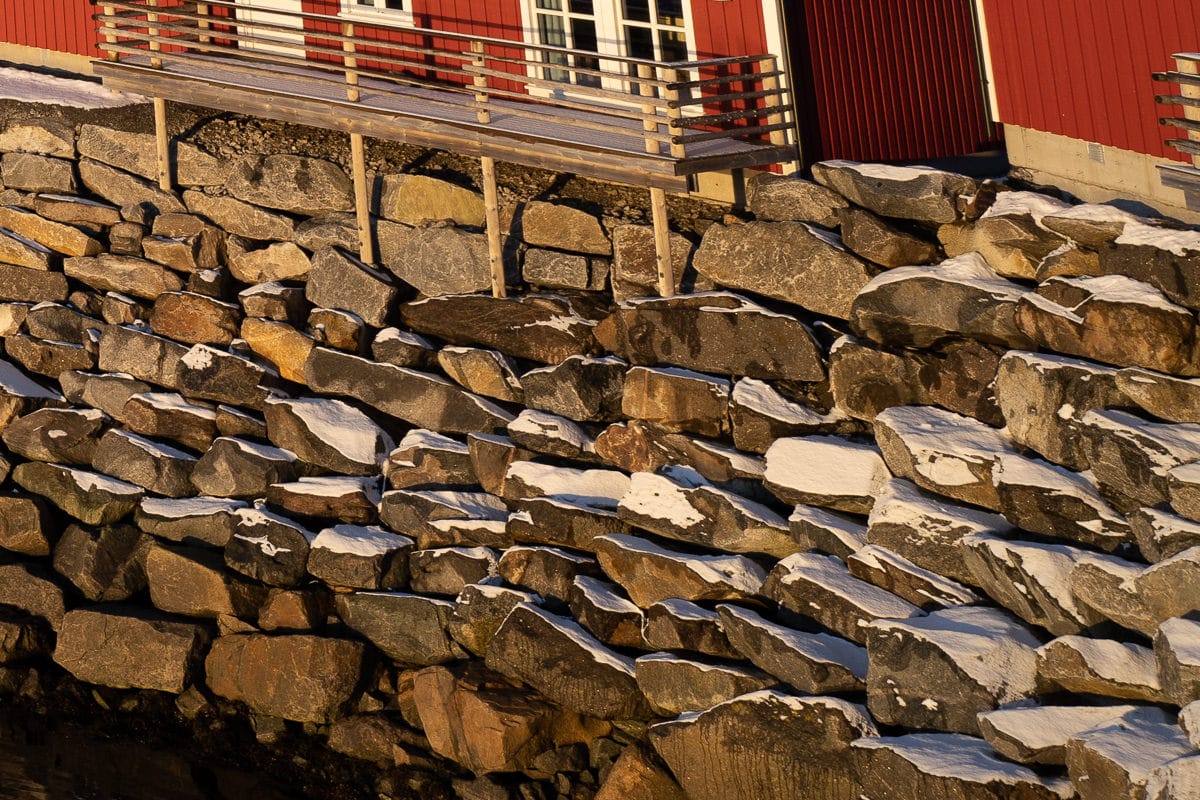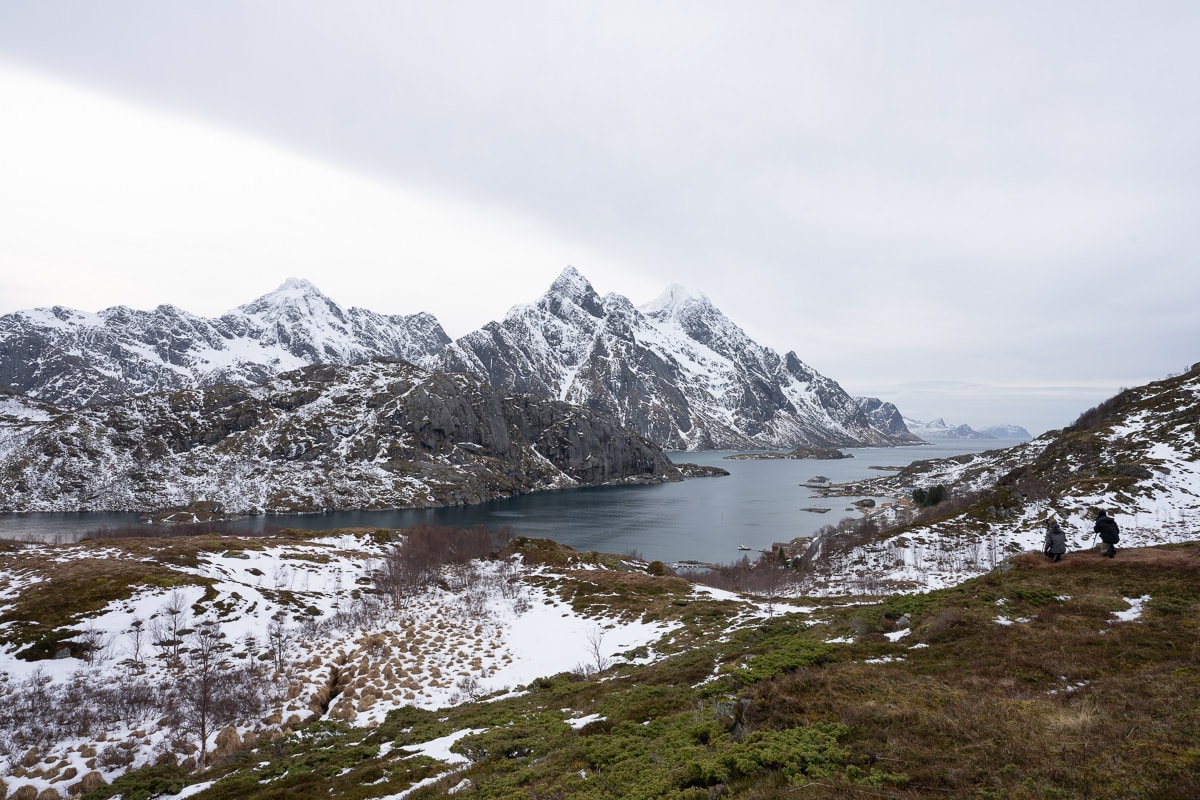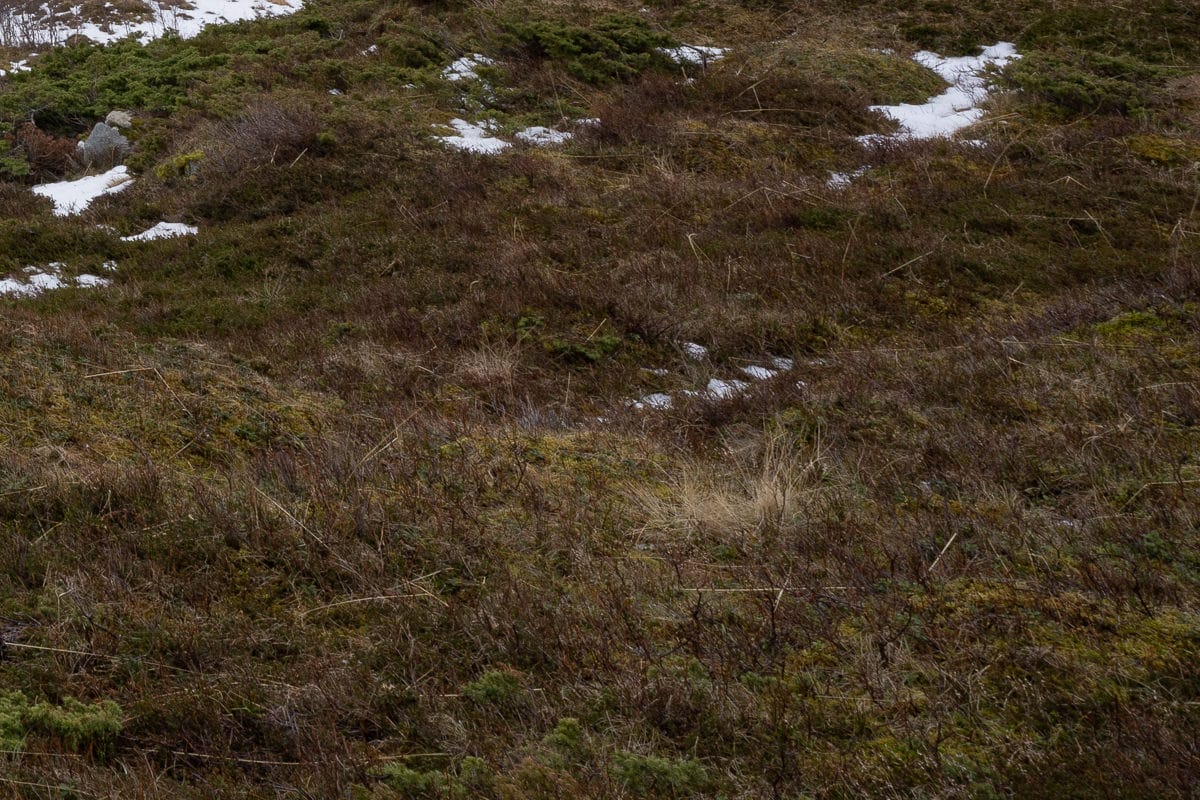 At f/1.8, the aperture I found myself using for most of my aurora shots, images are sharpest in the center and only seem to drop off slightly in the corners. Determining sharpness with night/astro images isn't as easy as when looking at overall sharpness with well-lit images. You have to take into account the ISO performance of your camera's sensor as well as the fact that you might find yourself trying to pull out image detail from a corner of your frame that simply doesn't have much light to work with. Regardless, I will let the results below speak for themselves.
Astro/Night Photography
Although I did enjoy using the 20mm f/1.8 G lens in a variety of landscape focused situations, I think it truly shines when it comes to astro/night photography. As a happy owner of the incredibly popular Sony 24mm f/1.4 GM lens, I did, at times, find myself wanting to shoot wider when it came to night/astrophotography with multiple trips to Iceland, Patagonia, and Mongolia under its belt.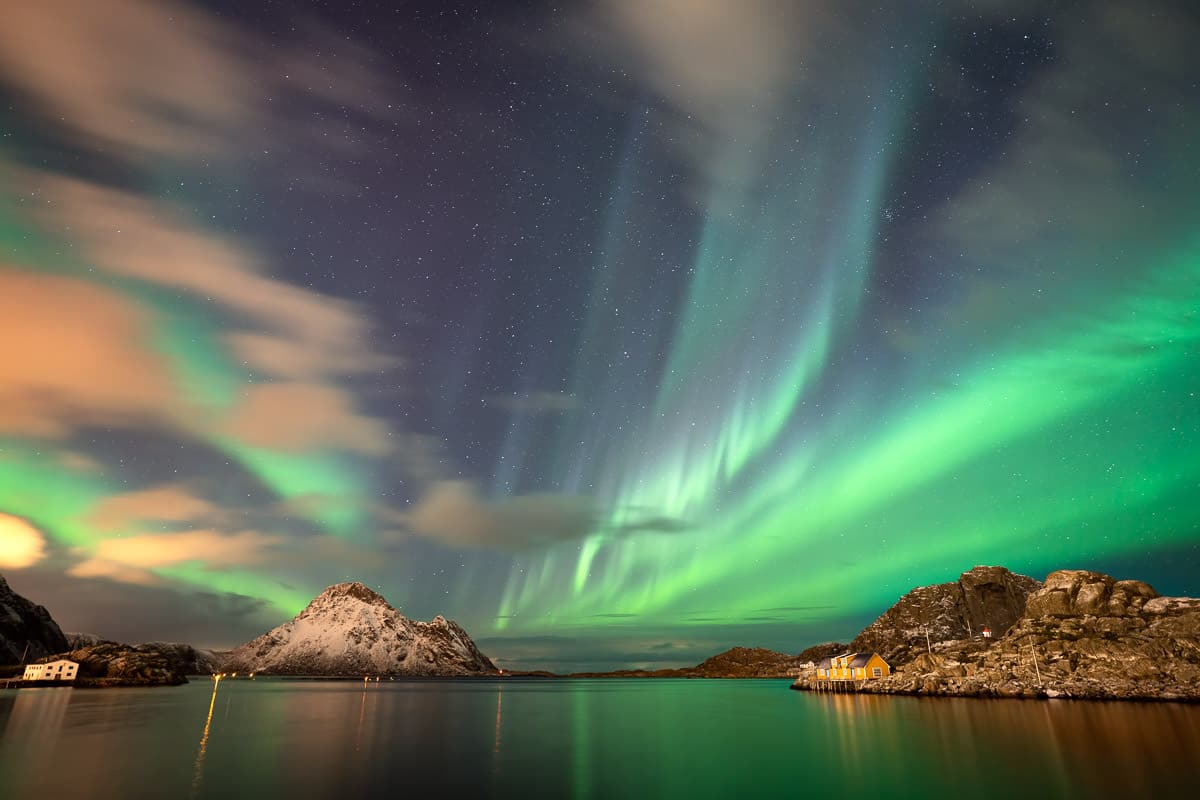 With a max aperture of f/1.8 and a wide 20mm field of view on a full-frame camera body, this lens was undoubtedly built with night photography in mind. Included inside the lens are two AA (advanced aspherical) elements as well as three ED (Extra-low Dispersion) glass elements to help accurately reproduce point light sources with high contrast. Why is this important? Because it helps minimize sagittal flare for crisp and clear images of the night sky. For those that don't know, sagittal flare is the elongating of pinpoint light sources like stars. Instead of tac sharp stars, a lens without these features could show stars as if they were in the shape of a bird, especially towards the edges of an image.
So how well did the Sony 20mm f/1.8 G lens handle the night sky? Exceptionally! Even though I wasn't focused on shooting stars, I was fortunate to have multiple opportunities to capture the aurora above the skies in Norway. While there were times when I found myself still reaching for my 16-35 f/2.8 GM lens when I wanted to shoot really wide, I found the 20mm range a perfect balance between the ultra-wide of my zoom lens and the occasionally limiting nature of my Sony 24mm f/1.4 GM lens. While there might be a little variance from lens to lens when it comes to manual focusing, I found the 20mm f/1.8 G lens to be the sharpest right as digital distance meter got to the infinity mark. Knowing this allowed me to easily dial in my focus while in extremely dark situations.
In terms of sagittal flares, I do see a few stars just barely starting to elongate along the frame edges, but it is very subtle when zoomed in past 100% on my Sony a7R IV files, as you can see from the unedited images below. Overall, both the aurora and stars look great to me, but I am excited to test things further. In a few weeks, I will find myself in Bolivia photographing the milky way above the Salar de Uyuni, the largest salt flats in the world that also happens to be some of the darkest skies on Earth. I will be taking this lens with me and look forward to updating this review with the results!
Gallery of Additional Images
Here is a small collection of processed images taken with the Sony 20mm f/1.8 G lens.
Final Thoughts
The Sony 20mm f/1.8 G lens is a very welcome addition to Sony's growing lens lineup. It is incredibly small, weighs just 13.2 oz and produces incredibly sharp images, even on the Sony a7R IV that has a tendency to demand the highest resolving FF lenses on the market.
While I am sure I will find myself using this lens in a variety of landscape and travel based situations, I feel most of its use will be focused on situations where I am capturing night/astro/aurora based images. At 20mm and with an aperture of f/1.8, this lens is fast and wide enough for me want to use it over my wider f/2.8 options at times, such as the 16-35 f/2.8 GM that has historically been my go-to for night photography.
At just $899, Sony seems to be positioning this lens to reach a wider audience than its more expensive GM cousins. So who exactly is this lens for? Really anyone wanting lightweight, portable and relatively affordable fast wide prime lens. When I return from my month-long adventure to Bolivia and Patagonia in April, I will put together an in-depth article comparing the 20mm f/1.8 G to the 24 f/1.4 GM lens so that you can make a well-informed decision on which option is best suited for your own needs. Stay tuned!
Full Disclosure
For the last 6 years, I have been a Sony Artisan of Imagery, working closely with Sony as an ambassador within the photo industry. Before that, I worked with Cannon for 7 years. While Sony did send this lens to me to test out in the field, they never asked me or paid me to write this review. Your trust is very important to me. All of my thoughts regarding this review are mine and mine alone after extensive use of this lens out in the field.
What Questions Do You Have?
If you have any questions about this lens or any of the gear I mentioned in this article, please leave them in the comments below. I am always happy to answer your questions, although with my busy travel schedule, it can some times take a few days to respond as I am often on the road on my next adventure.